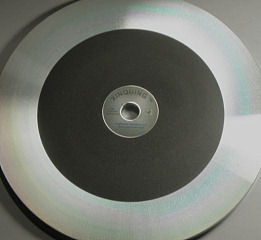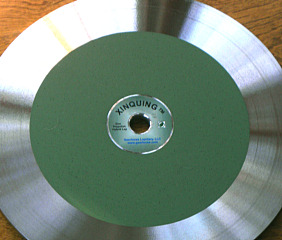 The "Wing" concept brought to zinc laps.
Tin prices have risen 58% in the last few Quarters. This has of course impacted the prices of all tin laps, everywhere.
While I personally did not care for zinc as a polishing material, many Old Pros still like it.
There was no such argument about its ability to make fast prepolising with 3000 or 8000 diamond, though. It is more agressive and faster than the tin alloys.
The cost savings versus tin can allow us to have an effective response to the entities that have manipulated Tin prices, and have an effective product at affordable prices again!
The XINQUING™ Dual Laps are available in either DARKSIDE™ or GREENWAY™ Polishing center zones.
Casting and manufacturing has begun. As of March 22, 2011, there are at present small quantities available. This will change, shortly.
The Xinquing™ , at $144.00 is significantly less than the Tin-based BATTwing. While they are more difficult to make, with significantly more machining time, the metal itself represents an escape from the Tin Market.
Users have found the special zinc alloy prepolishing band is VERY fast and aggressive, and that 8K diamond may be a better choice than the usual 3K prepolish. 3K cuts on this lap.
An 8K Diastik™ is being produced for this lap, available March 30, 2011.
---
The following movies demonstrate the "Wing" Dual Lap concept.
MOVIE TIME!
See The GreenWing™ work!

Courtesy of Allan Aoyoma, who made these and posted them to gemology online.
Used with permission, © Allan Aoyama, 2010
---
One-Lap prepolishing and polishing on the GreenWing™. 5MB
---
Preparing the GreenWing™ for first use: 9MB.