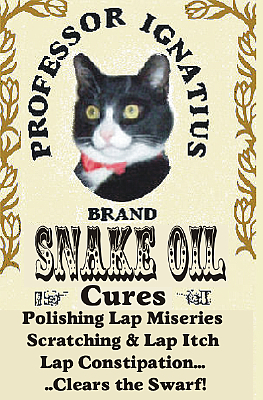 Replacement for Petroleum Distillates!
Odorless

Nontoxic

Harmless to Skin

Proven compatiblity with metal, ceramic, and polymeric laps.

Effective and economical- A few drops are all that's needed.
Reduces heating and friction, easily cleans lap deposits and swarf buildup, prevents adhesion of swarf to lap, readily cleans from stone, and does not attack common dop adhesives. As with its partner product, the DIASTIKs™, a little goes a LONG WAY. User Reviews have been very favorable.
---
The individual sales have been a losing proposition. There are several reasons: 1: The overpacking for an individual bottle makes shipping expensive and time consuming.

2: In keeping with their agressive discrimination against Small Business, at the beginning of 2010, UPS has decided that residential pickup charges apply.

They also raised the residential surcharge for the customers as well.

This meant only UPS was making a profit on this product. It becomes worthwhile as a point of sale product, or in multiple sales where the shipping costs are spread over many bottles. Dealers will still be selling it at shows. "Groups of friends" can get together for a dozen-bottle lot, or a "Six Pack". As a point of information, it costs substantially the same to ship one bottle as twelve.

The SixPack, shipping included, will be $75.00. The 12-pack will be $115, shipping included. This reduces the 12 pack price by $3 a bottle over the 6-Pack. See how the shipping impacts it so badly, and why shipping 1-2 bottles was a disaster?
---
Despite the material's harmless nature, it is a liquid. It is not flammable, but is combustible, in that it would participate in a fire.

Like the cardboard shipping box.

So this means orders containing Professor Ignatius Snake Oil™ cannot be shipped by my usual blazing-fast Priority Mail.
---
Nonflammable, but combustible: FP >170°F.
ADR/RIC Code: Not classified as hazardous.
Sea Transport IMDG Code: Not classified as hazardous.
Air Transport IATA: Not classified as hazardous.
DOT SHIPPING NAME: COMBUSTIBLE LIQUID, N.O.S.
DOT HAZARD CLASS: Not Regulated
DOT LABELS: ORM-D
DOT ID No: Not Required
---
---
QUESTIONS? E-MAIL ME !

---